Keeping our homes in pristine condition is a priority for most homeowners in Greensboro, NC. While routine maintenance tasks are often undertaken, one aspect that is sometimes overlooked is pressure washing. This powerful cleaning method offers numerous benefits that go beyond a simple aesthetic upgrade. In this blog, we will explore the importance of professional pressure washing services and delve into the many advantages they bring to homeowners in Greensboro, North Carolina.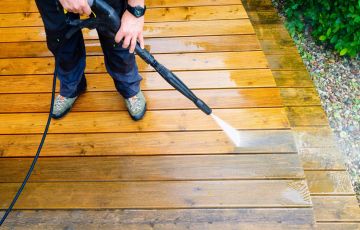 Enhanced Curb Appeal with Pressure Washing Your House in Greensboro
Imagine a home covered in layers of dirt, grime, and unsightly stains. It can be a real eyesore for both homeowners and visitors alike. However, with professional pressure washing, all of this can be effortlessly washed away. Pressure washing utilizes high-pressure water streams to effectively remove stubborn dirt and stains from various surfaces, including driveways, sidewalks, siding, and fences. By restoring these surfaces to their former glory, pressure washing can dramatically enhance the overall appearance of your home.
Protection Against Damage
Regular pressure washing is not only about keeping your home looking great; it also helps protect your investment. Over time dirt can accumulate on exterior surfaces, leading to potential damage. These contaminants can cause rot, decay, and deterioration if left unchecked. By utilizing professional pressure washing services, you can eliminate these harmful substances, effectively extending the lifespan of your home's exterior and saving you from costly repairs in the long run.
Preventative Maintenance
Pressure washing is not just a cosmetic treatment; it can also serve as a proactive approach to maintaining your home's value. During the process of pressure washing, professionals can identify underlying issues such as rot or decay that may be lurking beneath the surface. By detecting these problems early on, you have the opportunity to address them before they escalate into more significant and expensive repairs. Proactive maintenance through pressure washing can help preserve your home's value and ensure its longevity.
Health and Safety
The accumulation of allergens, pollen, and pollutants on your home's exterior surfaces can impact the air quality inside your home. Pressure washing effectively removes these harmful substances, creating a cleaner environment for you and your family. This is particularly important for individuals with respiratory conditions, as a cleaner living space can help alleviate symptoms and improve overall health and well-being.
Improved Energy Efficiency
Did you know that pressure washing can also contribute to energy efficiency? Surfaces like windows and solar panels tend to accumulate dirt and debris over time, reducing their ability to transmit light and energy effectively. By utilizing professional pressure washing services, you can remove these obstructions, allowing for optimal energy absorption. Cleaner surfaces lead to improved energy efficiency, which translates to potential cost savings on your utility bills.
Increased The Value of Your Property in Greensboro NC with Pressure Washing
When it comes time to sell your home, first impressions matter. A well-maintained and clean exterior can significantly enhance your home's curb appeal and attract potential buyers. Pressure washing plays a crucial role in improving the overall value and marketability of your home. With a refreshed and inviting exterior, you increase the chances of securing a higher selling price and a faster sale.
Schedule Your Pressure Wash Service Today!
Professional pressure washing services in Greensboro offer an array of benefits for homeowners. From enhancing curb appeal and protecting your investment to creating a healthier living environment and boosting energy efficiency, pressure washing is an essential maintenance task. By taking action and scheduling professional pressure washing services with Platinum Power Wash, you can revitalize your home, preserve its value, and enjoy the numerous advantages it brings. Don't wait; transform your home with the power of pressure washing today!